Marketing
The Amazing Mobile Strategies of Sephora, Walgreens and BMW
October 8, 2015
"Mobile first" has been a rallying cry for marketers for some time now, but it's not always clear how to incorporate mobile strategies to the overall mix of marketing channels in ways that provide new value to your customers.
eMarketer research shows that the ranks of U.S. mobile shoppers has increased from 23 million in 2014, to a new high of 146 million. This adoption statistic proves there's renewed urgency to develop mobile integrations that drive results. Further, smartphones are implicated in consumer purchase paths at many different touch points, so sophisticated mobile strategies go well beyond the mobile storefront (though retailers have enormous success with them, too.)
Looking to improve your mobile strategy and success? Here are 3 success stories for brands who are on the cutting edge of mobile strategies:
Sephora
(image source: Fast Company)
The enormously popular makeup retailer has introduced mobile apps that provide valuable services and make sure the customer's omnichannel experience is blended as artfully as their eye shadow.
Interactive Apps. Sephora updated a staple feature from beauty magazines – the how-to – for the digital age in a way that goes well beyond simply switching the channel. The popular makeup retailer's Pocket Contour mobile app not only teaches users the tricky ins-and-outs of using makeup to shape their features for maximum appeal, the step-by-step tutorial does it with selfies uploaded by the users themselves. The app also allows customers to take home tips to help that help them reproduce the effects they achieved with one of Sephora's in-store makeovers.  
Beacons. Another mobile app, Sephora to Go, links customers to their online account, allowing them to access account information wherever they are. When the app's beacon detects a shopper's arrival at a Sephora location, customers are prompted to access relevant in-store features, such as the Beauty Insider rewards card bar code for checkout.
Walgreens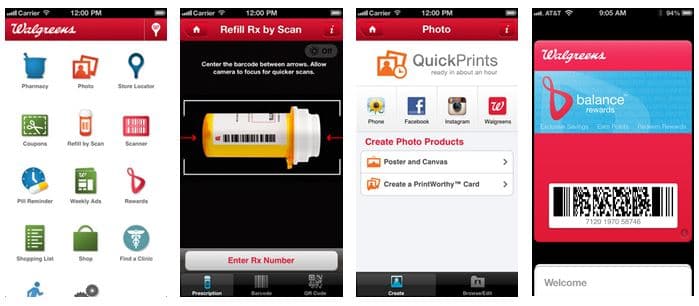 (image source: RetailNet Group)
The national drugstore chain's new "brick-and-click" strategy aims to put customers the fewest virtual steps away from purchase.
Physical + Mobile Storefront. Walgreen's has watched the number of customers who interacted with the brand on mobile devices grow from 1% to 60% since 2009. Their mobile app is wildly successful, lagging in popularity behind only Amazon and Groupon.
And since Walgreens' mobile customers spend 40% more than in-store-only shoppers, they've shifted their strategy from physical storefront to physical storefront plus mobile storefront.
What's significant about this major new marketing initiative is its implicit recognition that the two channels are symbiotic. Even without the mobile app, shoppers who shop in both the physical retail location and the online store are likely to spend three and half times as much than in-store-only shoppers. While the Walgreens stores serve unique access to millions of customers across the U.S., the value of servicing customers seamlessly across channels has helped them increase revenue and engage customers better than ever.
BMW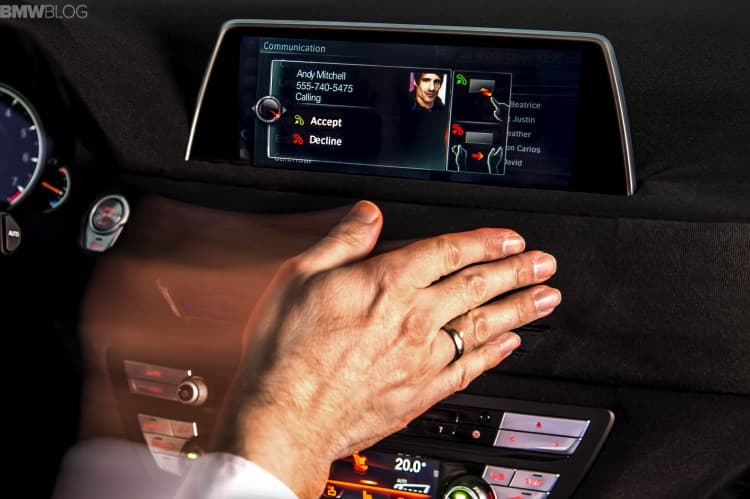 (image source: BMW blog)
The luxury carmaker maintains its exclusive cachet with a state-of-the-art 'infotainment' system that instantly integrates your smartphone with your driving experience.
Connectivity. BMW continues to refine its iDrive infotainment system, which, as the name might signal, seems to offer the least hassle to iPhone users. With the ConnectedDrive feature, BMW essentially embeds a smartphone in the car itself, giving drivers access to the same variety of services and apps they're used to having at their fingertips on all their mobile devices, as well as BMW's proprietary apps for safer, easier driving.
Drivers – and their passengers – can also directly plug in their own smartphones, and interact with their personal apps on the iDrive's built-in screen. Since smartphone technology is always on the move, we expect that BMW's mobile strategy will have to keep pace – something that might be harder to do when you're talking about hardware that's harnessed to a couple of tons of high-performance luxury vehicle.
Mobile strategies that add value to the customer experience are a win-win for marketers, who can increase engagement, drive new sales and increase customer lifetime value. The key isn't just to "go mobile," it's to make sure your mobile strategy goes with everything you do.
—Kristine Lowery, Content Marketing Manager at Sailthru