Technology
Virtual Reality Will Soon Transform the Way You Shop
August 20, 2015
This data from Business Insider is a fascinating look into what the future of online shopping may look like. While virtual reality may seem like a glimpse into a future world for some, it's an incredible solution to one of today's modern retail challenges: providing a digital experience that can mimic the tactile act of shopping in stores. We can't wait to see how retailers adopt this new approach.
—
Online retailers are increasingly coming up with new ways to make the at-home shopping experience as entertaining and comprehensive as going to a brick-and-mortar store. Most of the attention on virtual reality devices to-date has been centered around its impact on the gaming and media industries, but they could also have a major impact on how people shop, according to a 2015 survey conducted by Walker Sands. Thirty-five percent of the survey respondents said they would be open to purchasing more online with virtual reality since it will be a more realistic feel of the product remotely.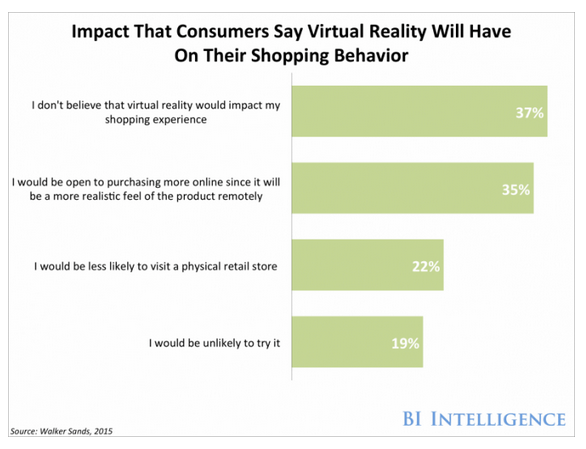 Japanese online retailer Rakuten recently acquired virtual shopping business, Fits.me, a London-based startup that develops "virtual fitting rooms", reports the company. Fits.me allows online shoppers to create an avatar with their exact measurements to better see how an article of clothing might fall on their body. The virtual fitting rooms give the customer the ability to more accurately visualize how a product would look, and gives them confidence to buy online.
This article was written by Nancee Halpin (nhalpin@businessinsider.com) from Business Insider and was legally licensed through the NewsCred publisher network.