Business
Study: Mobile Search Is Shifting From Google to Mobile Apps Like Yelp
June 16, 2014
Google's dominance in paid search is shrinking. And the culprit is the ballooning world of mobile-apps.
Mobile will account for 85.9% of digital ad search dollars by 2018, reaching $28.41 billion, according to a new report from eMarketer released today. And Google's share will fall to 64.2% — down from 82.8% in 2012.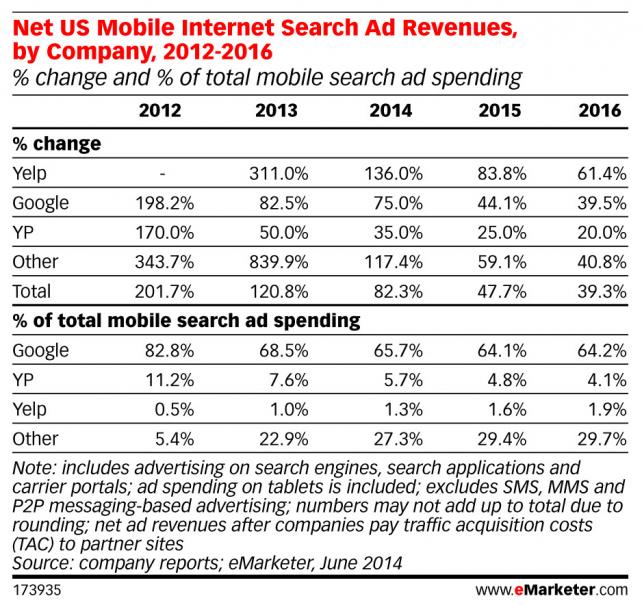 Last year alone, Google saw its near-monopoly in mobile search shrivel nearly 15 percentage points, with standalone apps, such as Yelp, scooping up considerably more search dollars.
Google isn't likely to lose its top position, but its decline in share reflects the diminished role of browsers on smartphones. The analytics firm Flurry estimates that consumers spend 86% of their time on mobile inside apps. For eMarketer, their search ad forecast needed to be adjusted to capture this behavioral shift.
"People don't look at their smartphone and think, 'Oh, I've got to look at my browser,'" said Cathy Boyle, senior mobile analyst at eMarketer.
Although Google does not breakdown its ad revenues by device, eMarketer estimates its mobile share through external research, usage trends and interview with agencies, publishers and brands.
YP, the second largest booker of mobile search revenues, is also expected to see its share decline. Yahoo and Bing do not offer company earnings figures on mobile search, yet eMarketer claims that neither company has come close to matching Google's numbers.
And all three search veterans are being nipped in the heels by the wave of newer apps.
Unlike the desktop, search on mobile isn't restricted to browsers. So a gamut of niche apps will start raking in searchers, and paid ads — like the travel app Kayak, job-search app Indeed, and apps run by the e-commerce giant Amazon. Since their mobile dollars are difficult to parse, all these apps are thrown into the surging "Other" bucket in the eMarketer report.
In 2014, eMarketer expects mobile search ads to cross $9.02 billion, roughly 51% of all mobile advertising, with companies other than Google earning 31.5% of the total. At this point, there isn't a clear victor among the challengers
"Really the group is going to chip away at Google's control," said Ms. Boyle. "The mobile consumer is prone to opening up whatever apps they're comfortable with."
Increasingly, they're comfortable with Yelp. The local service listing site is showing sizable growth. For the first quarter, the company reported 132 million unique monthly visitors, with a little less than half — 61 million — arriving via mobile devices. Yelp's revenues posted a 66% quarterly gain, to $76.4 million.
eMarketer is fairly bullish on the company's prospects in search. By the year's end, the analytics firm predicts Yelp's mobile search revenues will reach $119.4 million. And by 2016, that figure is expected to nearly triple, but will only command around 2% of mobile search ad dollars.
Ms. Boyle also noted that consumers are gravitating to social media for their search, browsing Twitter and Facebook to find recommendations.
From AdAge.com, 06-05-2014, copyright Crain Communications Inc. 2013