Personalization
Marketers are Bad at Personalization — Here's How to Be More Effective
January 20, 2016
By and large, 2015 was "The Year of the Customer Experience". Research analysts, marketers and executives on every conference stage proclaimed that customer-centricity is the new battleground and that the brands which deliver a modern experience will be the ones still standing.
When it comes to customer experience, a marketer's role is to increase customer lifetime value and total customer retention. These areas are where marketing has the greatest control and greatest potential to impact the bottom line, and personalization has surfaced as one of the most critical investment priorities given it is proven to boost response, conversion and revenue.
VentureBeat published this article full of recent data from Forrester and VB Insights on just how bad marketers actually are at personalization. It's cringe time for any CMO who has set personalization as a priority, but isn't truly delivering.
Turns out, most marketers are relying on extremely basic segmentation practices and passing it off as "personalization"…and consumers more than corroborated the failure in the data. Who's at fault here is a conversation for another post, but for now, let's dive into the research.
The study, which compares the perspectives of 200 marketers with those of 1,200 consumers, exposed the hidden truths behind the state of personalization: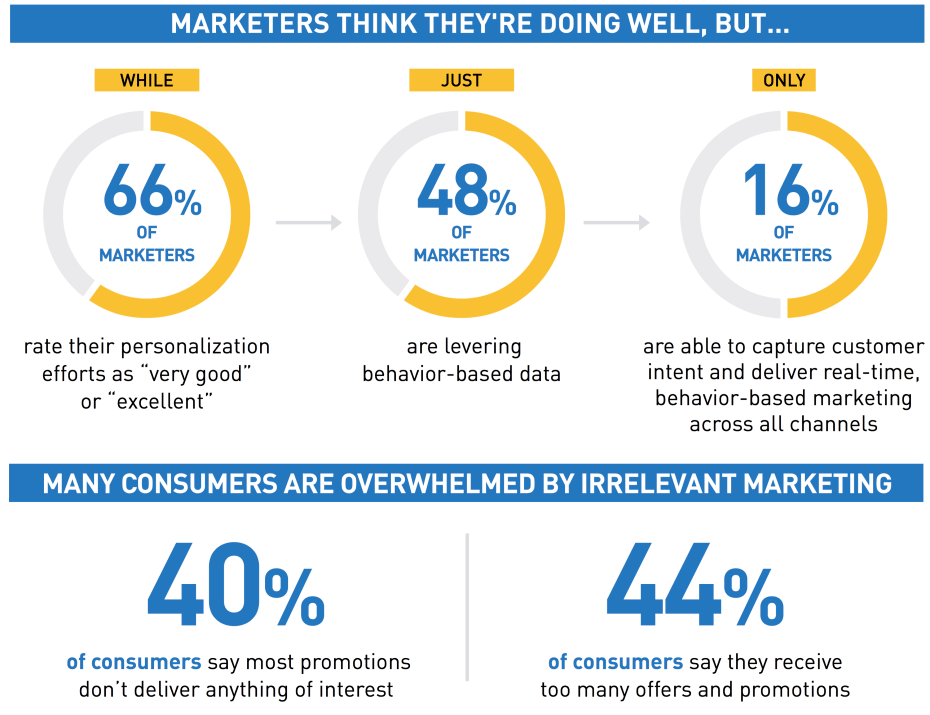 (image source: VentureBeat via hybris)
And these statistics are just the tip of the iceberg. Here are a few more from the study:
– Just 31% of consumers reported that brands are continually delivering personalized experiences
– While 91% of marketers surveyed are prioritizing personalization, many still rely on basic segmentation
– More than half of marketers use inflexible rule-based segmentation
Putting the Emphasis on Modern Personalization
While the data seen here is not very encouraging for how well marketers are doing to date, all is not lost. What everyone should pay attention to here are the phrases surrounding the numbers, namely that marketers are "relying on basic segmentation". But, personalization should be an exercise of 1:1 communication — not segments — with content, offers, volume and cadence being dynamically served based on a the unique dataset from an individual customer profile. If the marketers studied here aren't doing this, of course they are doing poorly! Because, quite simply, it isn't personalization.
Before organizations can even begin to talk about implementing, refining or becoming more effective with personalization, they first must understand that personalization is a mindset and strategy that goes beyond segmentation.
While segmentation is a proven effective tactic in marketing, delivering true personalization is much different. Both approaches are employed by sophisticated marketers to maximize revenue potential. For a full run-down on the differences of definition of personalization, and what true 1:1 entails, check out this blog post.
The good news is, by reframing your definition of what personalization means — and what delivers results — you're on your way towards putting a roadmap in place that will have you and your team well positioned for continued shifts in how consumers engage and what consumers expect.
Evolving Your Personalization Next Year and Beyond
The consumer responses in the study are cage rattling, at best. Here's some of the consumer stats from the study:
– 40% of consumers say most promotions don't deliver anything of interest
– 45% of consumers delete the majority of emails before even opening them
– 44% of consumers report they receive promotions too frequently
These stats underscore the increasing need for marketers to deliver on the promise of personalization — not just segmentation.
Want to start making a business case for why real personalization is a priority for 2016 and beyond? Consider the following data that show why it's a business imperative.
– 80% of future revenue will come from just 20% of existing customers (Gartner)
– Companies fully invested in modern personalization will outsell their competitors by 20% (Forrester)
– Increasing retention by a mere 5% can increase profitability up to 95% (Bain & Company)
To learn how Sailthru can help you make 1:1 personalization a reality for your business, let's get in touch!