data
[Holiday Data Alert] Mobile Conversion Gap Remains Critical Priority on Black Friday
November 30, 2015
Is your marketing strategy ready to seize as much of the holiday revenue pie as possible — while also driving future conversion and retention? Download our Holiday Marketing Playbook to find mission critical tactics and strategies to drive success during primary shopping days and essential program components for turning newly acquired customers into retained customers!
—
While retail analytics firms RetailNext and ShopperTrack have reported decreases in Black Friday in-store spending, the chase for digital dollars during online commerce's biggest weekend was headlined by the continual impact of the relationship between mobile use and purchase value. The so-called mobile conversion gap — whereby consumers increasingly engage via mobile devices while purchasing less frequently and at lower dollar values — presents a critical priority for retail brands year round, but especially so during the holiday season when there's nearly a trillion dollars on the line.
Data from 2.7 million emails delivered on Black Friday from 12 mid-market retail companies indicates that:
– More than 56% of all emails were opened on smartphones; just over 32% were opened on desktop; and 11% on tablets
– Click and click-to-conversation rates are still highest on desktop, which delivered 16% average clickthrough rate and 6% click-to-conversion vs. 14% and 5% delivered via mobile devices
– Revenue per thousand emails opened (RPMO) came in highest via desktop at $767.05 vs. $499.41 via mobile
– Highest opt-out rates came from mobile, with .62% on average over .58% via desktop
The Impact on Order Value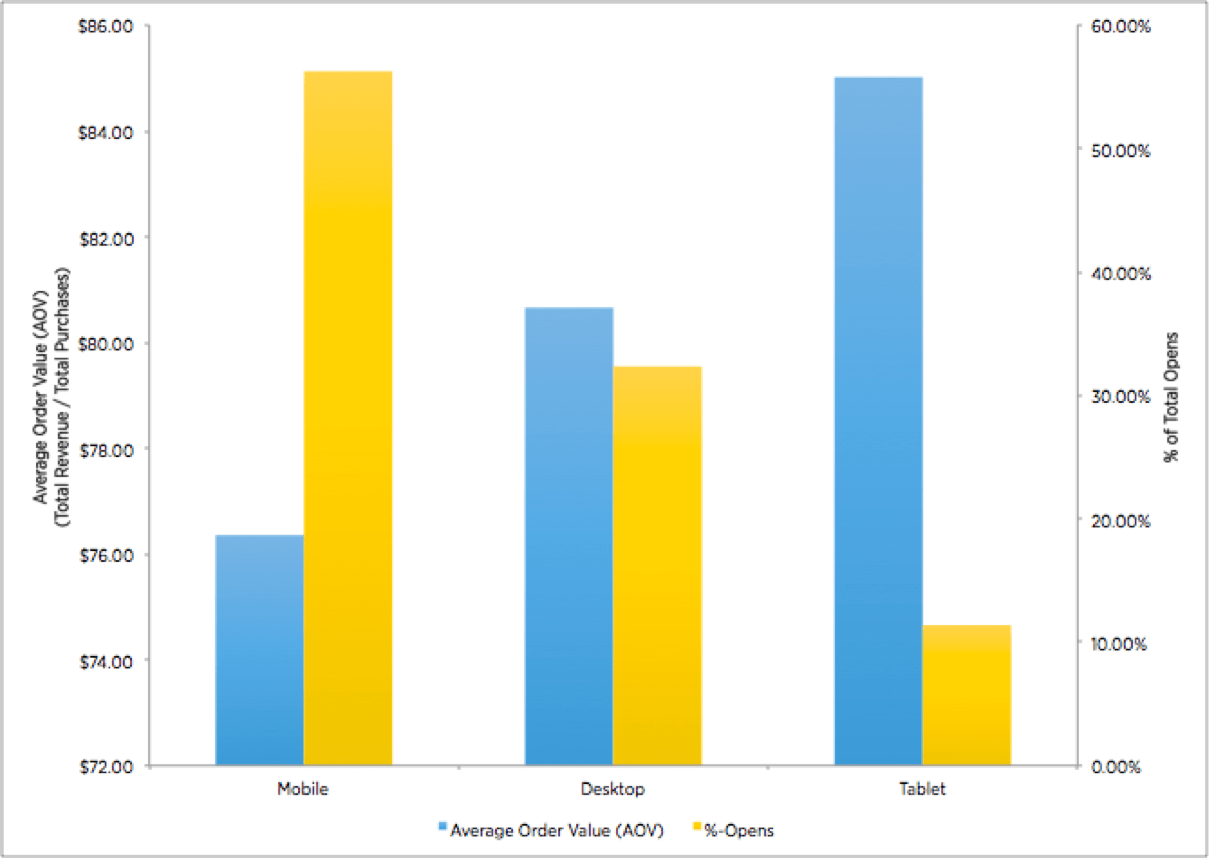 Average Order Value stayed true to the trend, with consumers using desktop devices spending 5.33% more than those on mobile. Tablets continued to perform as usual, delivering the highest AOV — weighing in at $85.02 over $80.66 on desktop and $76.36 on mobile — however, far fewer consumers opened emails on tablet devices on Black Friday making this audience lower in volume but higher in quality when engaged.