Marketing
CMOs Pressed to Lead Customer Experience Efforts, But Their Progress Is Lacking
January 24, 2015
Chief marketing officers say top management is increasingly expecting them to lead their organizations' customer-experience efforts. But at the same time, they admit their progress doing so is lacking, according to a new Gartner study conducted in conjunction with the CMO Club.
Customer experience is the practice of centralizing customer data in an effort to provide customers with the best possible interactions with every part of the company, from marketing to sales and even finance. Gartner believes that by 2016, companies will compete primarily on the customer experiences they deliver.
The study found that 25% of CMOs say leading customer experience is the most-increased expectation CEOs have of them over the last year. It beat out the next category, developing and retaining staff, by 11 percentage points. But Gartner also asked marketers about the areas in which they've made the most progress — and customer experience came in last.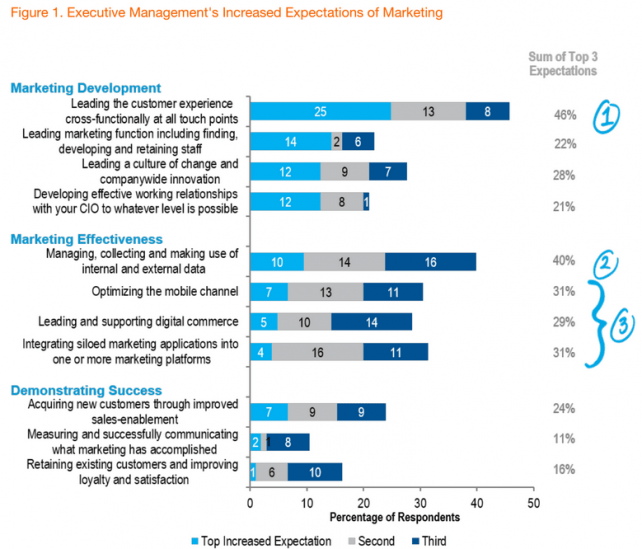 "It's a new expectation and it's a difficult expectation," said Laura McLellan, VP-marketing strategies at Gartner and author of the report. Ms. McLellan said the opportunity to lead customer-experience efforts is an opportunity for CMOs to gain more influence within their companies, but they risk leaving that influence on the table if they don't take the reins soon. "Now is the time," she said.
Even though CEOs were expecting CMOs to master customer experience, only 6% of respondents cited customer experience as their company's important strategic priority in 2014.
Ms. McLellan said progress in conquering customer experience may be lacking simply because of the newness of the discipline. "It may be because the importance of a consistently positive customer experience across all channels and company touchpoints has only recently grown in visibility as a top-level strategic priority," she wrote in the report.
Another possible factor is that some marketing executives may not have the clout within their organizations to rally multiple departments. "I understand there are CMOs who are not strong," said Ms. McLellan.
She also stressed how much work it takes to get companies to rethink the way they do business in order to improve their approach to customer experience: "This is a huge change-management process."
Nadine Dietz, chief marketing officer at The CMO Club, said she expects marketer focus on the practice to increase. "More and more people are spending time on it," she said.
—
From AdAge.com, 01-08-2015, copyright Crain Communications Inc. 2013
This article was written by akantrowitz@adage.com (Alex Kantrowitz) from Ad Age and was legally licensed through the NewsCred publisher network.